Live Review: 2014 Oscars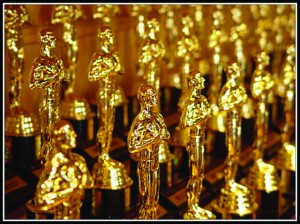 8:30pm Here we go!
RYAN: And we're off! What is Ellen wearing?! She looks like a modern day Colonel Sanders!
CAROLINE: Truly.  I'm glad she's hosting but come on, honey, it's a little tired with the whole "look who's here" in the audience bit.
RYAN: I love the theme though – heroes and and escapism.  It's such an exciting night.  The set is gorgeous!
CAROLINE: All the statues look cool.  We're expecting a lot of musicality tonight since the producers are big musical makers.
RYAN: Let's get set for the first award of the night!
8:40
CAROLINE: Wow Annie Hathaway looks gorge!
RYAN: Agreed.  And you don't love her so that's quite the compliment.
CAROLINE: Supporting Actor, to no one's surprise – Jared Leto!
RYAN: It's deserved.  He was this year's sure bet.  And I loved his speech, just beautiful.  After six years out of movies, he came back in the biggest way.  You could argue he had as big of a career makeover as Matt McConnaughey.
8:50
CAROLINE: Oh here we go with the montages already, and animation of all things.
RYAN: It's nice to commemorate the beautiful movies that have had such a profound impact on our lives.  OMG I love Pharrell's ruby slippers! Are you kidding me!  And this Busby Berkeley direction and production number is so fun!
CAROLINE: Yeah it's cool. That's a great song – it's such a competitive category in the original songs tonight!
8:59
RYAN: Costume Design goes to The Great Gatsby!
CAROLINE: Go Team Baz Luhrmann!  I love all that Catherine Martin does.  Moulin Rouge!! And for Makeup and Hairstyling, it's Dallas Buyers Club.
RYAN: Well the other two in the category were a joke.  I still say Oz the Great and Powerful should have been in this category!!
9:07
RYAN: It's a tame show so far. But how nerve-racking must it be for those six Oscar student winners to stand up there in front of Hollywood and the world.
CAROLINE: Terrifying! They must be dying, but cool too.  Ellen's cute but not so cutting edge.
9:13
RYAN: Well hello Kim Novak! Would it kill you to wear a dress?
CAROLINE: And what's wrong with her face?  Is she on steroids or something?
RYAN: She could have a stroke any moment.
CAROLINE: She may have just had one.
9:16
RYAN: Yay Frozen!
CAROLINE: It had to be.  Such a special film.  I know you can't wait for Idina to perform tonight.
RYAN: Oh, baited breath!
9:22
CAROLINE: Visual Effects, of course, is Gravity. But why is The Lone Ranger even nominated? That movie was a joke.
RYAN: Completely. Emma Watson is so cool and gorgeous.
CAROLINE: We're never a fan of the montages at awards shows and it seems just so many so early one already.
9:31
CAROLINE: Why are they wasting time on the shorts categories.  No one has seen any of them and no one cares!  We've obviously entered the zone of "no one cares."
RYAN: Every category matters, but I've always said awards shows are more enjoyable when you're in the know because you've seen the nominated material so this is a rough patch; the quiet before the storm.
9:53
RYAN: This is one of the most boring shows in Oscar history.  It's all a downer.  Even presenting the best picture nominees is a montage.  It seriously lacks humor and creativity at this point.  Ellen has finally changed but she's bombing a bit.
CAROLINE: Yeah but here's U2 at last.
10:05
CAROLINE: And now for the technical awards! OMG someone kill me.  This show is painful this year.
RYAN: Yeah it's surprisingly dull.
10:12
CAROLINE: And drum roll… Supporting Actress – Lupita Nyong'o!  Her first movie!
RYAN: She is going to have such a career!  This is amazing.  What a year – style star, Oscar winner… sky's the limit for her!
CAROLINE: She is so poised and stunning.  That dress!
RYAN: She looks a Cinderella.  She's like a real life Disney Princess.  She delivers a wonderful speech too.
CAROLINE: The standing-O was a bit excessive though.
RYAN: She is a breakthrough star, but true that. Ok, this pizza gag is way over-played.  I can appreciate the mix of high fashion and delivery… but c'mon!
10:32
RYAN: OMG I can't even!! The Wizard of Oz is my favorite movie of all time and seeing this tribute was beautiful! I had thought it was going to be Better Midler performing at this moment but I actually really liked P!nk even more!  Her ruby dress, Whoopi's intro – the images, Judy Garland's children – just a beautiful moment.  I loved that.
CAROLINE: It was very nice.  I couldn't help and I bet there isn't anyone who knows you that didn't think of you during that.  But would it have hurt them to actually bring Liza and her siblings on stage?
RYAN: Yes that was odd.  But I love that moment!!
11:03
CAROLINE: There are always long streches between the good awards but this year feels abysmal.  And what's with Bette's performance?  Don't they usually have someone sing during the In Memoriam montage as opposed to after?
RYAN: Yeah but they were making a big deal about this being her first-ever performance on an Oscars stage.  She was great and looked great.  It's still a nice was to honor those past.
CAROLINE: True.  But still a bit of a time suck.
11:14
RYAN: I LIVE for Idina – but first what the heck did John Travolta call her?  He butchered her name!!
CAROLINE: (laughs) That was crazy and so weird! And what happened to his hair!
RYAN: She always gets very nervous.  I remember she cracked during the Tonys in 2004 when she performed Defying Gravity. She really rushed the heck out of the song tonight and worked for that high note which is at the edge of her voice, but I still live for her.  And it won best song!! Love it!
11:24
CAROLINE: Best Adapted Screenplay goes to 12 Years a Slave.
RYAN: John Ridley went to my high school!!  Congrats to him!!  I think this means it's gonna win the picture as predicted.
CAROLINE: Could be.  And as for Original Screenplay – Her.
RYAN: Ugh. It was the frontrunner but I still hated it.
11:34
CAROLINE: And it's time for Best Director – Alfonso Cuaron for Gravity!
RYAN: I love him!! He's one of my faves for having done A Little Princess and Harry Potter and the Prisoner of Azkaban.  He's a cool dude and now a visionary director!
11:42
CAROLINE: How sad is it that they take all the time early on with all of the boring things and then rush through all the cool stuff at the end because they're running out of time!?
RYAN: Preaching to the choir!  So here it is – Best Actress… Cate Blanchett!
CAROLINE: No shockers so far and few chances left.  She's so posh.  And clearly the Woody Allen controversy had no effect.
RYAN: I loved Blue Jasmine and her performance in it.  It came out at an awkwardly early time of year and defied the odds that way.  Cate really is a powerhouse actress and fully deserves this.  I still want Amy Adams to win one… or several someday!
11:49
CAROLINE: What the heck Jennifer Lawrence – who are you calling out? Ha!
RYAN: Best Actor – Matthew McConaughey for Dallas Buyers Club.  He is a modern Hollywood success story.  His role rehired him to act beyond the weight loss and he did it.
11:57
CAROLINE: So Best Picture is 12 Years a Slave. There was zero surprises tonight!
RYAN: Yeah it really was the first time I can remember no shockers in any category.  As a matter of fact – not much really happened tonight.  Previous shows featured a lot more production for presenting nominees and other things but this year was just very limited in flare.
CAROLINE: Ah well… it's always something different!
RYAN: Thanks again for sharing another special night… until next year!