Draft Day Review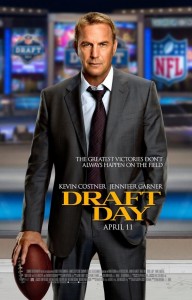 RYAN
: This is Kevin Costner's latest sports film in which he costars with Jenny Garner.  It's of the football variety and about Draft Day, which I hadn't realized was such a big deal.
RYAN
: (laughs) Since I'm not a sports fan, I was so confused by the beginning of this movie.  And football is the one I know the least about so for the whole first hour of the film, I didn't figure out whether Kevin was the manager, owner, coach, or what was going on.  This movie really caters to sports people who know the sport; however, eventually, I figured it out with enough clues to fill in the blanks.
CHUCK
: I, too, am not a huge American football fan.  But I knew enough about the draft and there was a bit of confusion about who he was until Frank Langella's character came in.  Then you realized Kev is the GM.  But the first hour had no momentum.  I wasn't confused, I just felt the pacing was off in the story… it was very slow to start.
RYAN
: I fully agree but the second half and the end all pick it up and it turns out to be a good movie.  I ended up getting really into it.  The test for a good sports movie is whether it's rousing, suspenseful and can entertain the non-sports fans in the audience.  This one was.
CHUCK
: Right.  It's all about the story.  If a story is good, it doesn't matter what the subject is.  The problems with the pacing were there but overall, by the time the draft begins, I was also into it and the pace was where it should be.
RYAN
: It's almost like a courtroom drama.  The suspense, the negotiations, the quick back and forth – I didn't even knot that any of that happens.
CHUCK
: Oh yeah it's a huge deal.  And for a lot of people, Draft Day is almost bigger than the Super Bowl because it indicates the future.
RYAN
: It's like an awards show or a movie premiere – there's a red carpet.  It takes place at Radio City Music Hall.
CHUCK
: It does.  I didn't realize you could take seats out of Radio City Music Hall.  It's a huge, televised event.
RYAN
: Before we talk about the actors, we have to note the really creative editing they did consistently throughout the film.  There were swipes, split screens, and shoulders poking through.  I really appreciated it from a creativity standpoint but it really distracted in a lot of moments because the craftiness of that editing took me out of the story – it's like I was paying more attention to that than the dialogue at times.
CHUCK
: I agree at the beginning, but then it didn't bother me as much.
RYAN
: But it went too far.  It distracts.  Kevin Costner was good but lookin' a little long in the tooth, especially when couple with Jen Garner who is 18 years younger than him.  But it was appropriate for the story.
CHUCK
: It's a May-December romance.  I didn't really buy their chemistry though.
RYAN
: Oh I was into them as a couple.
CHUCK
: It was good having her.  The world of football is filled with such machismo that it was nice having a smart, strong, female in the mix in this film.
RYAN
: She looks beautiful and was finally good in this movie.  I hated her in her last few films – Dallas Buyers Club and The Odd Life of Timothy Green.  She's been pretty bad in movies lately so she redeemed herself for me in this one.
CHUCK
: I didn't see either of those movies.  She's never been one of my faves but she's fine.
RYAN
: I like her.  And now she's good again.  I also liked the way that comedy is brought into the film, primarily from the perspective of this one young intern in the office.   He was played by Griffin Newman and was good.
CHUCK
: This was directed by Ivan Reitman who's made so many classic movies – he really knows how to tell a completely formed story.  And of course to see Ellen Burstyn on the screen is always great.  And then Rosanna Arquette who had, like, only two lines.
RYAN
: It was really nice for me to see my alma matter – the Badgers at the University of Wisconsin up there in the story.  And since we screened this with a Wisconsin audience, you could hear the pride in those moments.  Even though it's not a true story, it's still fun seeing places you know on the big screen.
CHUCK
: Go Badgers.  There's even a shot of the Packers in the end credits.  Football is such a big part of so many peoples lives in this country.  It was cool seeing this.
RYAN
: It works. You don't need to be a sports fan to like it.